When we came up with the idea to paddle marathons on our plastic bottle SUP back in March, the first person to contact us after we released our video was Thodoris Tzoumas from Skiathos, Greece.  We had met 7 years ago at a very good friend's wedding (on my first visit to the stunning island) and always stayed in touch because of his keen interest in protecting the environment.  Thodoris helped set up Active Skiathos Against Plastic Bags (ASAP), a project that aims to radically reduce single-use plastic carrier bags in Skiathos Island. ASAP benefits from the support of Beyond Plastic Med and Prince Albert II of Monaco Foundation. It is carried out by the MEDITERRANEAN SOS Network, co-funded by the Thalassa Foundation, the Municipality of Skiathos, the MEDITERRANEAN SOS Network and supported by the Cultural Association Skiathos.
When Thodoris invited us to Skiathos on behalf of the Skiathos Cultural Association we did not hesitate to say yes.  (We only realised later how far away it was but it was worth every minute of the three day drive to get there!)
As we stepped off the boat, Thodoris and Nikos were at the beach in Koukounaries to greet us, photograph us and then drive us to the campsite. Camping Koukounaries, a large, shady place with several quirky touches including bicycles hanging off trees, is run by Dimitri, a very kind gentleman who cares deeply about the environment and to show his gratitude for what we were doing he kindly offered to host us for free. This was the first of many kind gestures that we would come to understand as typical of Greek hospitality and generosity. As we found the perfect spot for our tent, Thodoris presented us with a delicious moussaka from his restaurant, Meso Strata (that can be found by bus stop 16 and is a must for anyone visiting the Island) and a beer – both extremely welcome after a long journey! Before leaving us to get settled, Thodoris invited us to a moonlight cruise aboard the Calypso to celebrate the annual party with the Skiathos Cultural Association. It was a beautiful evening with traditional snacks and live saxophone music; little did we know that we were to be mentioned in the speeches and treated as guests of honour! What an incredible welcome – an evening we will never forget!
After a few days in Skiathos we discovered that nobody had yet paddled (SUP) around the Island and we would be the first to take on this challenge with our plastic bottle board. Given our experiences in the sea, we were a little concerned about paddling around an entire island as the wind has an opportunity to get you at every angle! Reassured by the weather predictions and the expert kayaker turned SUPer, Nikos, who would join us for his first SUP marathon, we waited optimistically for our marathon day! Before then, however we had a busy schedule.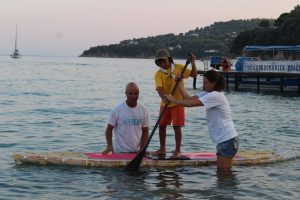 On Thursday we were invited to Esperides Hotel to teach the (girl and boy) Guides how to build a plastic bottle board in our first workshop. It was a wonderful evening where the children had the chance to pump up bottles, cut and scratch the bottle sleeves and watch as we glued the tubes together. Then the highlight of the evening… every child had a turn paddling on our plastic bottle marathon board. For most of them, it was their first time on a SUP and something they will remember forever! Not only did they learn about plastic pollution but they also left with an understanding of how plastic rubbish can be used in a creative, positive, fun way. After everybody had a go, including some of the parents (one of whom fell in much to the delight of the children), we made our way back into the hotel where we were all invited for dinner. The owner of the hotel, who had watched us on the beach, extended the invitation for Carlos and I to have dinner at Esperides Hotel for as long as we were in Skiathos; another incredible display of Greek generosity and welcomed by Carlos who has decided that Greek food is his favourite – sorry Portugal – you have been relegated to second place!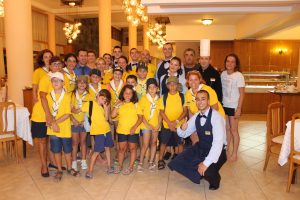 Behind the scenes, whilst also running a very busy restaurant, Thodoris had been talking to just about every journalist in Greece! On Friday morning we had our first live interview via Skype with SKAI news. We would have our second after the marathon with the ERT 1, Greece's national TV channel and the equivalent to the BBC. We were not aware at the time but our marathon coincided with the very day that Greece introduced a plastic bag tax so it seems we were quite the talk of the country!
 Saturday arrived and thankfully, as predicted, there was no wind. We set off from Aselinos beach in the North and headed in a clockwise direction, returning to the same spot 9 ½ hours later! We were joined by local Skiathian Nikos, who knew the island like the back of his hand taking us into hidden caves and entertaining us with myths, stories and the history of Skiathos! Not only was he great company and an incredible guide but he also makes his own paddleboards! Our fourth team member was Iliana, our SUP racer friend from Athens who we had met in Noli a few weeks earlier. It was amazing to have two friends join us for the whole marathon especially as neither of them had paddled a marathon before!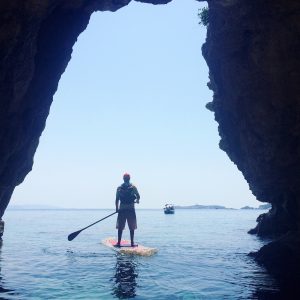 Skiathos is a jewel in the Mediterranean- the scenery was breath-taking and we enjoyed the marathon from start to finish. At our first stop we were interviewed on the beach by Skiathos TV and we were filmed periodically around the Island, once by a drone – thanks once again to the incredible hard work and organisation of Thodoris. Up until now Carlos and I have been using our phones and a waterproof camera to try to tell our story – not easy when balancing on a SUP, so it was fantastic to have the support of professionals!
Skiathos has a magical energy that embraces you and makes you feel at home – we look forward to coming back ASAP!