by Carlos De Sousa
We left our campsite in Noli on a scorching hot day and headed to Slovenia. On our way we noticed the change in the nature – a beautiful place surrounded by green forest and much cooler temperatures, much to our relief! Our last marathon in Noli was great with the Green Surf Festival and a group of inspiring people from Protect Blue, who came to enjoy the Italian weather, gelato and the joy of the festival itself with a great atmosphere and the opportunity to learn from sustainability experts.
We arrived in our campsite in Maribor and were met by Suzi from Bananaway and Gregor from Sandiline. A great feeling took place when we met them; they are joyful, friendly and were extremely supportive of our cause. They made us feel at home and helped us organize our paddling in the Drava River.
A couple of days after we arrived, Carolyn and I made our way to the Drava River for our 5th marathon and for the first time we were joined by Suzi Simencic, who paddled the whole marathon with us and was such great company.  Arriving at the start, it was hard to keep my jaw closed in front of such amazing nature – green forest cut buy the Drava River in a beautiful valley and as it had been raining for two days, the level of the river was higher than normal. The Drava River has three power plants, which we knew we would have to walk around, but did not worry about unduly (we should have been more concerned!)  I have seen power plants before but it was my first time in a river when the dam was open, creating a great artificial waterfall and a lot of current, which helped us get some speed down the river (much appreciated when you are on a stand up paddle board made of plastic bottles, which is quite a bit slower than a normal board).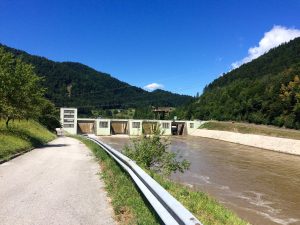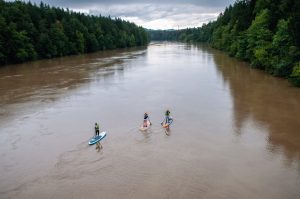 Talking about the hydroelectric dams… on a positive note the current was amazing but the dams block the river and make it virtually impossible for river traffic. There were no exit or re-entry points and it was very hard to get out before the power plant and back in after. We spent so much time walking around them – 3 hours to be precise and all three of them were difficult! It was a proper adventure involving climbing and tying the boards with ropes to hoist them up a 5 metre cliff to the road above. We then had to walk over 1km to get back to the river and we almost thought that we would finish our marathon carrying the boards by the side of the road, looking for a place to get back in.  Just before our third power plant Simon, Suzi's boyfriend turned up to help us and we were delighted to see him; he put the boards on the top of the car and took us to the next re-entry point.
The Drava River is a great place to paddle if you like nature but unfortunately the power stations limit its navigation and turn the joy of paddling into quite a harassment!  Having said that, Slovenia is beautiful and a great place to connect with nature and where else can you paddle where there is love in the name? sLOVEnia – we love you!