with SUP CLUB MADRID
When we arranged to do our second marathon in Madrid, I had no idea that our journey would take us to such a beautiful spot and that we would meet such wonderful people!  We chose to partner with SUP Club Madrid because they regularly organise 'paddle and picks', cleaning plastic from the waterways and it was clear that they share our passion for looking after the environment.  Ainhoa and Gerardo helped us to organise our marathon route around the Atazar Reservoir, just north of Madrid and they both joined us for part of the marathon too – Ainhoa even paddled on our plastic bottle board for a little of the marathon!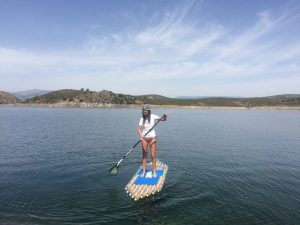 El Atazar
The Atazar reservoir, lies in the Bajo de Lozoya valley and holds 46 percent of the Community of Madrid's reservoir water.  It also makes a great recreational weekend escape and I can vouch for the campsite in the area (Camping Cervera de Buitrago) which was fantastic.  The picturesque reservoir is lined with beaches and attracts many holiday makers, however this has its problems as growing amounts of rubbish are left behind littering and ruining the site.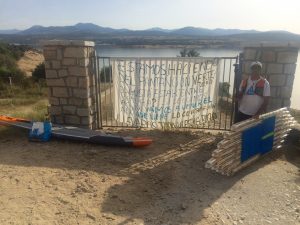 Climate Change in Action
Our marathon efforts are all about raising awareness of plastic pollution so we felt we had come to the right spot to help bring attention to this problem.  We were also alerted to another very serious issue – climate change.  As we paddled during the June heatwave, with temperatures soaring up into the 40's, we could not help but notice the extremely low levels of water.  Last year, at the same time of year, it was possible to paddle through the arch in the picture below – a clear indicator of just how little rain has fallen and pretty worrying for those people in Madrid, for whom this is their source of water.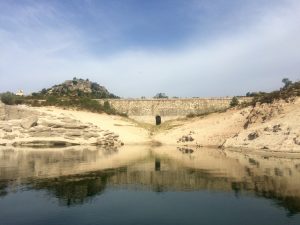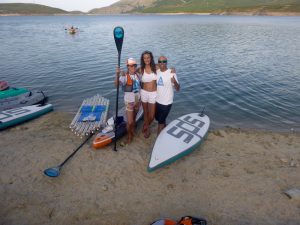 Marathon Madness
After a gruelling 10 hours and 45 minutes in the burning sunshine, 9 hours paddle time against, and occasionally with strong winds, we managed to complete our second marathon!  It was tough but we did it.  It took a while to recover and now we must mentally and physically prepare for the next 10 marathons.  Bring on Portugal – along the coast in the Algarve.  We have paddled on a river and a reservoir, now for the sea!