As our final marathon approached, a strange apprehension and uncomfortable feeling of disbelief washed over us both. On the one hand, we could not wait to finish but on the other, we wanted to prolong our journey and savour it a little longer.
We set off early before the sun rose as, by now, we knew that the light would not last the requisite number of hours and we wanted to avoid paddling in the dark as much as possible. A silent mist hovered above the water creating a mystical, enchanting cloak as if we were crossing through into another dimension, providing a meditative atmosphere perfect for reflection. We built our first plastic bottle SUP only 6 months earlier and now we were about to complete our 12th marathon, having only paddled a handful of times before.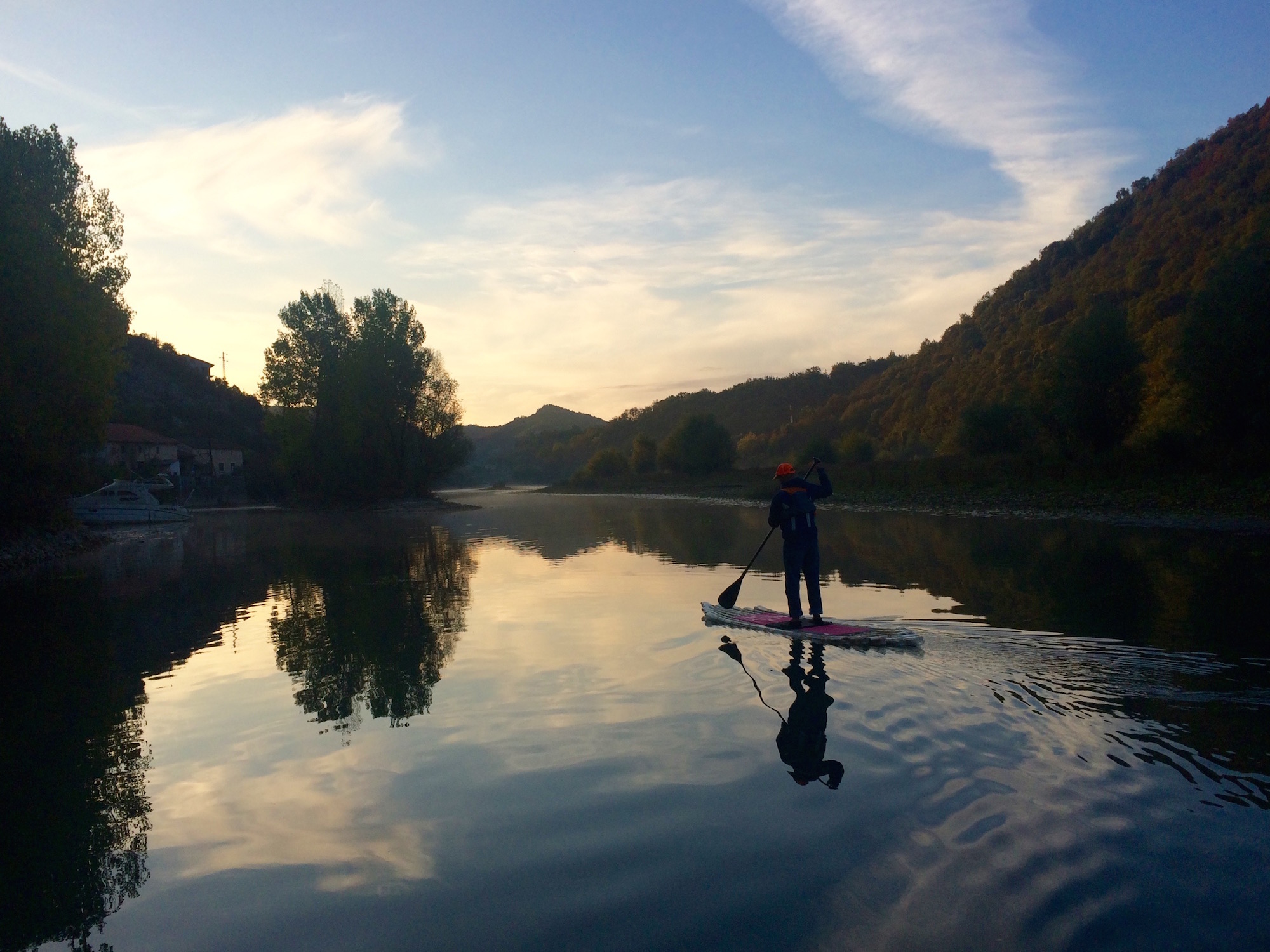 With every gentle splash of the paddle and every lingering cloud of cold breath, my mind filled with gratitude for all the people who had made our journey possible. Our new friends who showed us such kindness and generosity and welcomed us to their part of the world; places that now hold special memories for us and offer an invitation to return to explore again in the future. And our old friends, family and strangers who offered their encouragement and financial support to help us on our quest.
As we paddled down the river, Rijeka Crnojević, the sun climbed higher in the sky; its warmth penetrated the layers of stillness, lifting the fog to reveal the glassy water that mirrored the mountains and the sky. The scene was breath taking and once again I felt transported into an alternate universe. For a few moments I imagined a world free of fear, war and greed, replacing the depression of dysfunctional society for connection. Connection to nature, to myself and to everyone, no matter what race, religion, customs or beliefs. Connected by the fabric of universal love.

A boat filled with a choir of tourists brought me back to reality as we reached the edge of Skadar Lake. We continued to the canal, which lead us to Virpazar, a small town, which marked our halfway point. Here we met the crew from Boat Milica, the friendly family business that runs boat trips on the lake and the local experts who had become our advisors. I must also mention the fantastic team from Montenegro Plus based near Tivat on the Bay of Kotor, who gave us accommodation and helped us plan our route. The importance of these collaborations was demonstrated just as we were about to set off after a quick stop for lunch. Jelena, from Boat Milica, let us know that the wind had changed and it would be too dangerous to continue on our original route; we would be heading straight into fierce wind! It was an easy decision to go back to where we started in Rijeka Crnojevića and this had the added bonus that we would not need to travel the 42 km back by car!
We paddled back down the canal and into the open water of the lake. As predicted, the conditions had completely changed and we needed to summon all our strength to push through the cross wind for the 2km stretch back to the river. Once there the wind would be in our backs, helping us home. In moments like this, and there have been many throughout the marathons, you have to push yourself to your limits, way beyond your comfort zone. This test of courage and determination leads to incredible insights on self-discovery.   At times like this I channel my anger and frustration as I paddle furiously. Sometimes my deepest innermost struggles surface, but at other times, my passion is roused and my dedication to the cause is reinforced. Along our journey we witnessed sickening levels of plastic pollution. Circumstances differ, whether it is a lack of education, laziness, inefficient waste management or no recycle systems but the effect is always the same – plastic – on roadsides, rivers, lakes and ultimately choking our ocean. And it seems that this plastic epidemic is driven by a world addicted to sugar. No matter, we are taking action and hopefully we can inspire others to do the same.
We continued for another 5 hours; the wind calmed, the sun set, the moon rose, the sky went dark, the stars came out and we carried on paddling. As we reached the final bridge, we felt a tired satisfaction that we had accomplished our mission, and just in time for my birthday the next day. Rather symbolic, a new year and a new adventure lie ahead.

Anything is possible when you have the courage and determination to make it happen.
… with huge thanks to all those who helped us to complete our mission.